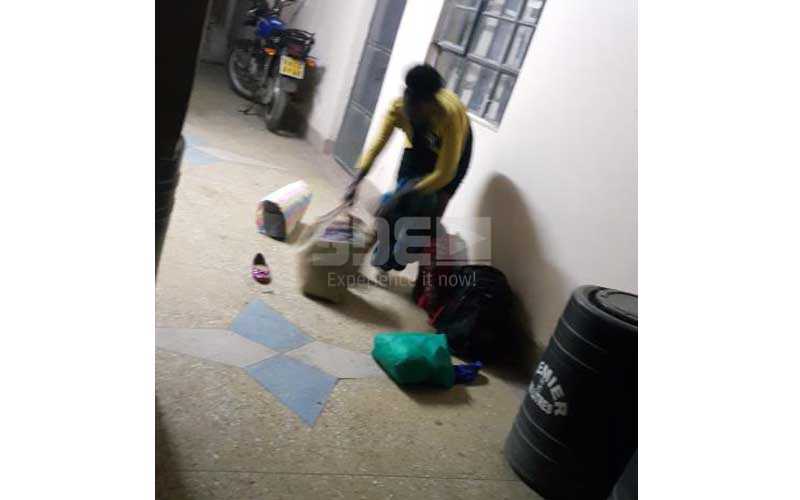 The infuriated woman evicted her young sister at night
She accused the Form Three student of dressing skimpily to impress her hubby
A woman threw out her younger sister at night accusing her of sexually confusing her baby daddy at Tassia Estate in Embakasi, Nairobi.
The woman caused a stir at night when she threw her younger sister's belongings from the fourth floor of her rental bedsitter leaving residents gawking in shock.
Mary Mutindi who declined to talk to The Nairobian was said to have been angered with the skimpy dresses her school going sister wore in the house.
Mutindi arrived at around 9pm and asked her sister identified as Nduku to leave the house before angrily throwing out her belongings.
"I was hit by something like a shoe, but I took cover before nasty things could come," Ken Goga who witnessed the incident told The Nairobian.
Another tenant Willis Ogongo has claimed he will be forced to travel to his village Kisumu after being hit by a heap of pants, something he claims is a taboo in their culture and must go home for traditional medicine.
"I heard the noise but was not aware of what was happening because I had just arrived from work when the unfortunate clothes hit me on the head," he said.
Nduku went down stairs, picked her scattered belongings, and stuffed them in bags before hastily leaving the flat.
She denied eying her sister's baby daddy, saying her sister was usually full of drama after wrestling beer bottles.
"I will sort myself and one day I will also have a house," Nduku, a Form Three student at a nearby day school, said as she left as curious tenants who said she smelt of cologne even when going to the shops, stared at her.
The Nairobian could not reach the husband, a taxi driver, as he was not at home. His wife declined to comment.
JOIN THE CONVERSATION
next