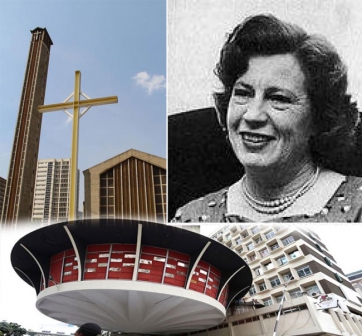 The Holy Family Minor Basilica in Nairobi squats at the ankles of Koinange Street. It was built throughout the 1940s, with interruptions when Kenya's State of Emergency was declared in August 1952.
Kenya's new Governor, Sir Evelyn Baring, predicted that the emergency would "only last a few weeks," but Jeso Kristo! it lasted nine years. But the story of the Basilica was longer.
When the railway workers came to Kenya at the turn of the 19th century, the Catholic Church saw a spiritual demand and filled it. After all, the Anglicans had their All Saints Cathedral on Delamere Avenue, that is today's Kenyatta Avenue.
The Basilica sits on the spot where Brother Josephat of the Holy Ghost Missionaries oversaw its construction, not far away from the railway and source of the congregation.
That was in 1904. The Holy Family Minor Basilica was the first stone building when Nairobi was a 'mushy tin town.' And while there were not very many people, the Catholic Church was pretty hopeful, having designed it to hold 300 to 400 faithful.
By the way, the Holy Ghost Fathers ran the cathedral for over 80 years to 1991.
But did you know that East Africa's first woman architect designed the new basilica in 1960? It featured non-figurative stained glass and Carrara marble with a sitting capacity of 4,000, the effort of Dorothy Hughes.
She was not only an architect, but also a politician and an activist and helped establish Cheshire Homes for the Disabled in Kenya.
Dorothy and her parents moved to Uasin Gishu in the Rift Valley when she was three in 1913. The family built Uasin Gishu's second stone building and she represented Uasin Gishu in the Legislative Council in 1956.
Schooled in London, Dorothy returned to Kenya and married Irish settler, John Hughes, founder of Hughes Motors, holders of the Ford franchise.
The mother of six opened Hughes & Polinghorne architectural firm, whose portfolio include the Golden Beach Hotel, Nairobi Hospital, Nakuru War Memorial Hospital (a long string of hospital engagements earned her an MBE), the Rift Valley Sports Club and St Mary's School, Nairobi.
Did you also know that Dorothy designed Mad House (F1) along Koinange Street? The flying saucer shaped structure was the only one in Nairobi that stood on a single column before it was demolished in 2014!
A staunch Catholic, Dorothy donated her Muthangari House to the Opus Dei, and when she died in 1987 aged 77, she was interred at St Austin's Cemetery in Nairobi.
The views and opinions expressed here are those of the author and do not necessarily reflect the official policy or position of Sde.co.ke
JOIN THE CONVERSATION
next