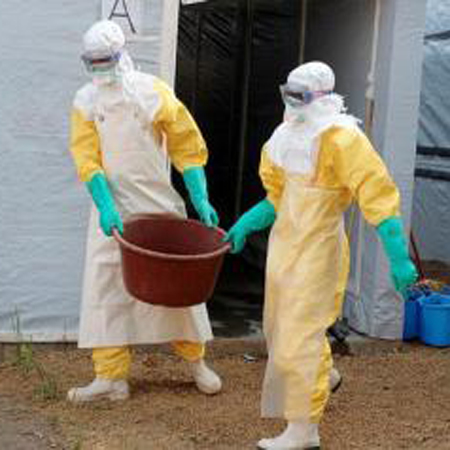 It all starts with sudden fever, intense weakness, muscle pain, sore throat and before you know it, the doctor drops the bombshell; you are suffering from Ebola.
The simplicity with which Ebola symptoms engulf a healthy human being sounds straightforward.
However, as the disease progresses, attacking one organ after the other, systematically degrading the body's ability to stay alive, and the culmination of an attack is predictable: death.
According to the World Health Organisation (WHO), everyone should maintain a keen eye on such symptoms, as well as the progressive stages that present with diarrhoea, vomiting and bleeding from the body's orifices.
According to Dr Kizito Lubano of Kenya Medical Research Institute (KEMRI), Ebola infects humans through close contact with infected individuals. The source of the virus has originally been determined to be animals like chimpanzees, gorillas, monkeys, baboons, forest antelopes and fruit bats.
"It spreads through a population through direct contact with infected blood, bodily fluids or organs, or even indirectly through contaminated surfaces in the environment," he says.
"Even the dead body of an Ebola victim is highly contagious and if not handled well can lead to subsequent infections."
Kizito points out that the incubation period, the time between the moment the virus enters the body and when the first symptoms emerge, is between two days to two weeks.
Though WHO has documented that the disease occurs primarily in places near tropical rain forests, outbreaks have been reported before in Sudan, as well as in neighbouring Uganda.
Currently, Guinea, Sierra Leone, Liberia and Nigeria have been affected by the grip of the virus. In what experts describe as the worst Ebola outbreak, over 1,300 deaths have been recorded and some 700 people are receiving treatment for the disease.
Kenya's ministry of health has told the media that it is working hard to keep off the disease from country's borders. It is however worrying that flights into and out of the countries currently experiencing the scourge have not been halted.
The primary method to avoid being infected with Ebola, says Kizito, is to avoid contact (at all costs) with any infected individuals. This would also mean avoiding touching anything that has been in contact with the sick.
So virulent is Ebola that even doctors wearing protective gear and health workers doused with disinfectant liquid to kill the virus, still end up contracting and dying from the disease.
Infected individuals, even those showing signs of recovery and remission, remain infective for as long as seven weeks.
So far, the outbreak in West Africa has killed between 50-60 per cent of infected individuals. Medicins Sans Frontieres (MSF) has issued a warning that it is a race against time to control the number of people who are coming into contact with sick individuals.
The incubation period means that individuals could infect many others before they are discovered to harbour the virus when the symptoms kick in.
Isolation
The first line of defense, especially for Kenyans, would be to remain watchful and report any incidences.
Dr Kizito says that if one suspects an infection, they should first isolate themselves from others and immediately call for medical help. There are neither vaccines nor drugs against the virus. However, some drug therapies have been used before to help sick individuals get into remission.
Care should be taken, especially by travellers who frequent West and Central Africa where the virus has previously been reported.
JOIN THE CONVERSATION
next