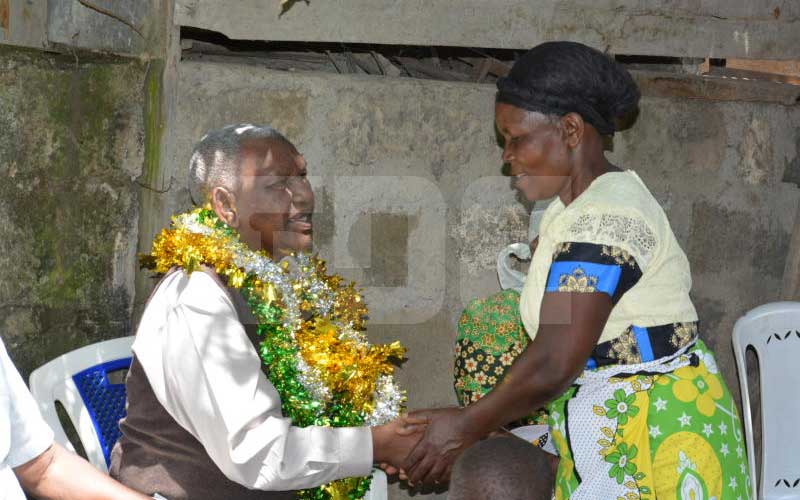 He migrated to the United States of America in search of greener pastures. And after 47 years, James Mugweru returned to Kenya and is delighted to be home.
A convoy of five cars snaked its way into Mwariki village in Nakuru County on Friday afternoon, as residents joined the family in celebrating the return of their 86-year-old son, father, uncle and brother.
Women from local churches had arrived earlier to prepare a hearty meal after which they sat in anticipation, with drums at the ready to break into song and dance once Mugweru arrived.
Tears of joy flowed as the family embraced their lost son for the first time after nearly five decades, which he spent in Utah, with minimal contact with relatives in Kenya.
In an interview with The Standard, Mr Mugweru revealed he left home for the US at the age of 27 a few years to Kenya's independence after a short stint at Kenyatta National Hospital.
"I studied medicine at the Royal College, which is the current University of Nairobi. Between 1955 and 1959, I worked at King George Level Four Hospital now known as Kenyatta National Hospital as a medical laboratory technician," said Mugweru.
After migrating to the US, Mugweru found himself in a tough environment just as is the case with many foreigners.
"In the US I joined a university to further my education. I graduated as a medical technologist. On completion, I wanted to be a doctor. I briefly enrolled and later quit due to the complexity of some chemistry-related courses," said Mugweru.
Life in the United States is not as easy as many make it seem, reflects Mugweru.
READ ALSO: Deported: Son of former minister and MP living in abject poverty
No walk in the park
"Being in a foreign land is not a walk in the park. It requires focus, humility and perseverance, especially in the first few years. At first, I worked in various hospitals, which were paying well. I later became a commercial and taxi driver, which was equally lucrative," he said.
In the initial years, Mugweru would make trips back home after every two or three years to see his family that included a young wife. Due to the high cost of airfare, he finally decided to have his wife join him in the US.
"It wasn't a big hustle for me as I was making good money, enough for my survival and to occasionally come back to see my family. In 1971 I paid for her ticket to the US so that I would travel less," said Mugweru.
Two years later his mother died, and soon thereafter his marriage that bore him three children crumbled, increasing the distance between him and his ties back in Kenya.
"My last trip to Kenya was in 1973 for my mother's burial. I've not been back since then. Months later we had irreconcilable differences with my wife and parted ways," he said. Mugweru later remarried.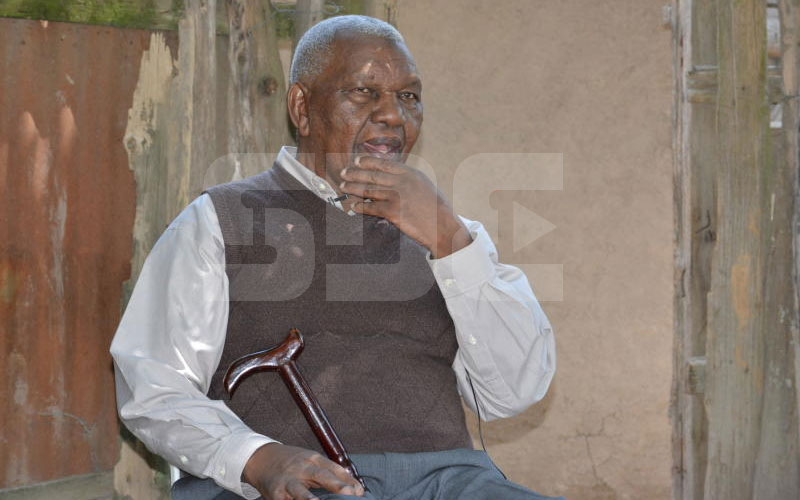 "My first wife died in the US and was buried there. My second wife passed on three years ago and my only son died five years ago. I'm now left with two daughters. The last time I counted I had 15 grandchildren. They have never been to Kenya," said Mugweru.
During the interview, Mugweru who could hardly complete a sentence in his Kikuyu dialect before reverting to English explained that his 47-year stay without visiting Kenya was perpetuated by financial constraints.
Home is best
"I always wanted to come back home but I had retired with little money. I also had my family there and I had become attached to the States. Nevertheless, I'm happy to be home with my brother and sister," he said.
His brother Norman Kimani could not hide his joy as the two embraced. They could be heard whispering that they had a lot to catch up on.
"I never gave up hope of seeing him again. East or west, home is best. There is a lot that we have to talk about. He is welcome back but we wish he made regular visits or explained to us the challenges he was facing. We lived in great uncertainty," said Kimani.
Mugweru's sister Joyce Wanjiru said they have been at pains explaining to their children the whereabouts of their uncle.
"During our annual family gatherings, people always asked about him. They felt that we were not doing much to locate and bring their uncle back home. The burden is now off our shoulders," said Wanjiru.
Mugweru's return did not, however, come easy as he had no money to pay for his air ticket, neither could his daughters afford it.
It took the intervention of his nephews, nieces and the Kenyan community in Utah to raise funds for his travel home and back to the US.
"For three months we have been in contact with a church where he fellowships in the US. With their assistance, we raised money for his airfare. We are glad to see him and we hope he will stay here with us," said Daniel Muigai, a nephew.
But Mugweru is undecided on whether to stay, with indications showing that he will return to the US where he says his home is, adding that adjusting back to Kenya at his age will be a great hurdle.
"Utah is where my family is and I have become accustomed to the US. I will spend a month in Kenya and go back to the US. I feel a bigger part of my life is there. However, I'm still pondering on my siblings' insistence that I stay with them now," said Mugweru.