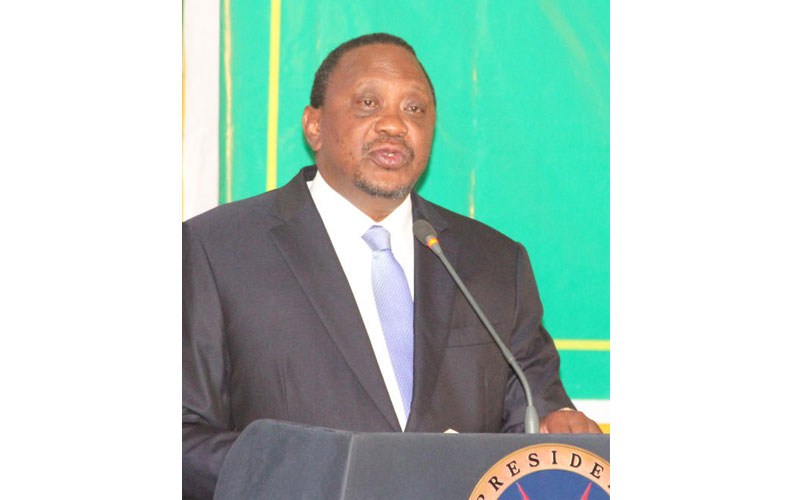 Kenyans have taken to twitter to share their views of the country with President Uhuru Kenyatta.
Currently trending at the number one spot on Twitter, Kenyans are using the hashtag #DearUhuruKenyatta to air grievances and opinions on how the country is being run.
One recurring comment was on the appointment of former Othaya Member of Parliament Mary Wambui as head of the National Employment Authority (NEA).
Many social media users expressed outrage at the move, opining that the opportunity should have been given to someone younger given the high unemployment rate among the youth. Others questioned whether she landed the job on merit.
Here are the sentiments from Kenyans:
#DearUhuruKenyatta

I find it very hard to pray to God about this country, I actually don't usually know what to include and what to leave out.

If I don't say I most times feel so broken and helpless when some news come to light... I would be lying — Nyokabi Mburu Kimani (@Nyokabi_Kimani) October 15, 2019
#DearUhuruKenyatta Is it true that even after jobless graduates posted their academic credentials online you still went ahead to appoint Mary Wambui to head the National Employment Authority?Mtu anafaa kuwa anakula bonus. — Mariga For Kibra (@MukhutsiKe) October 15, 2019
#DearUhuruKenyatta
I regret voting u
I regret wasting my time on the que
I regret being jubilee supporter — sammy ???????????????????????????????? (@sammy_kg) October 15, 2019
When Mary Wambui was mentioned as the new chairperson of National Employment Authority, I lost all my ability to can. How can such a 'youth' head a very useless organization? It's more of rewarding old camels. #DearUhuruKenyatta. — BRAVIN™ (@ItsBravin) October 15, 2019
To Kenyans Tweeting #DearUhuruKenyatta & Oppressed Africans in general

"The Slave who cannot Organize his Own Revolt deserves no Pity for his Fate;He alone is Responsible for his Misfortune if he Believes his Masters False Promise for Freedom"-Africa's Chê Guevarã Thomas Sankara pic.twitter.com/6BpDeh4J3k — Hezbon Mureithi® (@HezMureithi) October 15, 2019
Jubilee promised youths jobs but only retirees are being appointed. The Jubilee manifesto is a broken promise#DearUhuruKenyatta — MuthuiMkenya ???????? (@MuthuiMkenya) October 15, 2019
#DearUhuruKenyatta I'm disappointed — bosi_bori (@bosibori_Ke) October 15, 2019
"The youth are the true barometers of the political and economic climate of any African country. Therefore take your pride of place; you are not leaders of tomorrow, start serving today."
-Prof PLO Lumumba#DearUhuruKenyatta stop appointing retirees pic.twitter.com/F1zRZ6aKV5 — PK Kasirim (@pkasirim) October 15, 2019
#DearUhuruKenyatta

You have failed Kenya again — HON. Matthew K. Shahi (@matthewshahi) October 15, 2019
#DearUhuruKenyatta You promised job employment for the youth during your campaigns. What we now see is exactly the opposite. Unaweka Cucu asimamie Youth employment???????????????????? — kijana Chinque (@kijanachinque) October 15, 2019
#DearUhuruKenyatta you loudly promised laptops for kids, but failed to ensure that the schools inhabited by children are
1) existent
2) safe
3) capable of supporting these laptops...electricity...heck even storage — Nasi ???? (@mama_munchkin_) October 14, 2019