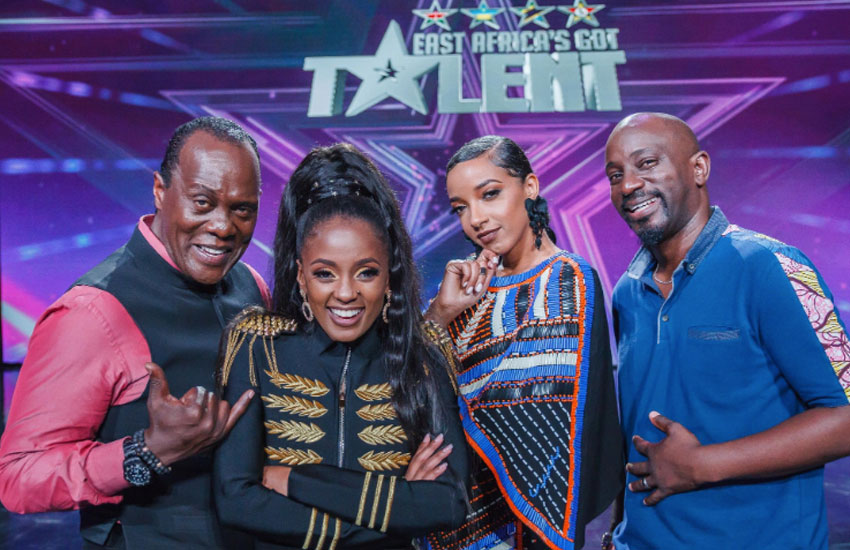 East Africa's Got Talent (EAGT) premiered on August 4, 2019, to a high-octane flow of excitement, emotions, drama and entertainment as several top notch acts battled it out for the ultimate crown and cash prize of Ksh 5,000,000.
Led by judges; Jeff Koinange from Kenya, Tanzania's Vanessa Mdee, Rwanda's DJ Contact Makeda and Uganda's Gaetano Kagwa, the auditions kicked off to a smooth start.
EAGT host -Ugandan comedienne Anne Kansiime - mesmerized the East African community for weeks to stellar reviews as each contestant put their best foot forward.
In the preliminary auditions, which took place across major cities in East Africa namely; Nairobi, Mombasa, Dar es Salaam, Kampala and Kigali, contestants turned up in droves with an uncompromising aim to be crowned top.
The theatre auditions ran for close to three weeks summing up the season 1 episode 1, 2,3,4,5 and 6. As expected, the successful contestants convening in Kenya at the Catholic University for the theatre auditions.
Episodes recap
Impressing the judges and the audience in the first week and earning themselves a spot in the semi-finals were; Tanzania's dance group The Mason 666, Rwanda's Afro-fusion singer Elisha the Gift, Uganda's young dance group All Eyes on Us, Kenya's Jannell Tamara, Rwanda's Himbaza Club and finally from Uganda Jehovah Shalom Accapella who got a golden buzzer.
Only Jannell Tamara and Jehovah Shalom Accapella made it to the finals.
In week two, with the competition getting stiffer and the judge upping the tempo, each contestant had to implode with a performance of the ages.
Tanzania's Silk artist, Lizzy, Intayoberana from Rwanda, Leyna Kagere from Uganda, Yada Dance from Kenya, Tetemesha from Kenya and Esther & Ezekiel from Uganda did exceptionally well to waltz into the semi-finals.
Making it to the finals were; Intayoberana, Leyna Kagere who won a golden buzzer and Esther & Ezekiel.
In the final week of competition, tears flowed freely, laughter broke out, and excitement filled the air as the judges settled on Kenya's Jua Kali Drummers, Spellcast and Team Makorokocho as well as Peace Hosiyana from Rwanda, DNA from Uganda and Sinaubi from Tanzania to proceed to the semi-finals.
Only Peace Hosiyana, DNA, Spellcast and Team Makorokocho made it to the finals.
With a total of 18 contestants chosen by the judges, dotting EAGT audiences - through public voting- were now tasked with the job of settling on two exceptional acts who will battle it out on the grand finale and put their name and respective countries on the map.
In the previous episode of EAGT, out of the eighteen chosen contestants, six took to the stage to battle for a spot at the finals.
After rigorous performances, the judges settled on six acts who will once again compete for the finals, that being; Janelle Tamara, Jehovah Shalom Accapella, Intayoberana, Esther & Ezekiel and Spellcast.
Finalists
As the competition continues to get tougher and tougher, who do you think will win the East Africa's Got Talent season 1?
Could it be the adorable Janelle Tamara courtesy of her breath-taking voice, Jehovah Shalom Accapella due to their melodic synchrony, Intayoberana - I mean have you seen how these young kids move, spectacular.
What of Esther & Ezekiel, the duo that can literally take your breath away or Spellcast the energetic talented group?
Be sure to catch the next thrilling EAGT finale on Sunday, October 6, at 7:30 pm only on Citizen TV for an enchanting experience as the curtain falls on East Africa's top talent show.
You can still watch all the episodes' highlights on YouTube for free!
How?
Simply reach your daily Stori Ibambe target to enjoy Safaricom's 200MB free YouTube bundles.
What's more? You get 200% airtime bonus.
To check your target, simply dial *460#