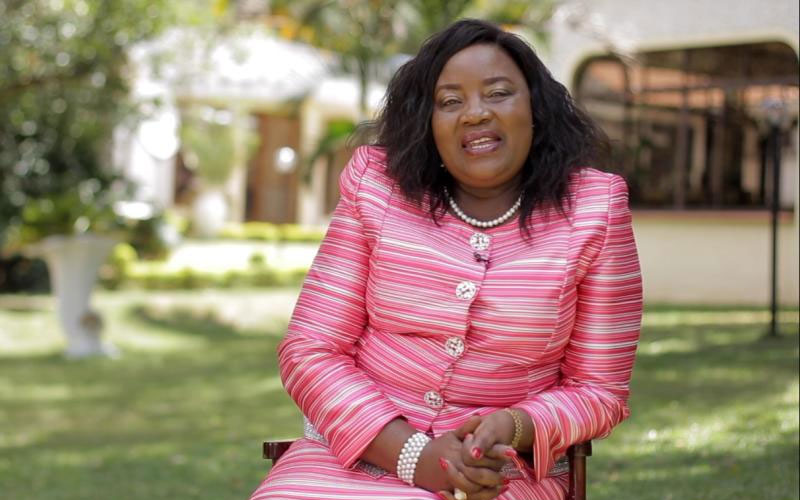 It's never a dull moment with opposition leader Raila Odinga's wife, Ida Odinga who, on several occasions now has proven she is way more fun than many might think.
In a recent video that has since gone viral on social media, Ida is seen cheekily 'stealing' a neighbour's overhanging fruits.
The one minute video shows Ida with the help of unidentified man firmly holding on to the tree's branch and eating the fruits as her daughter, Rosemary teases them and they all burst into laughter.
Rosemary who briefly comes into the picture refers to her mother and her male accomplice as 'thieves' in vernacular.
READ ALSO: How Ida Odinga rescued Yvonne Khamati from violent husband
"Bring a basin," Ida requests. As someone in the house is heard shouting after her, "hurry, bring a bowl."
The videographer jokes at Opiyo, Ida's partner in crime saying, "Opiyo do you know rat and rat?"
Opiyo then turns and responds, "This is how we are going to live, Canaan is ahead of us."
"We are there, we have already arrived," Ida responds.
Sleek dance moves
We all know how Raila Odinga gets down when he attends rallies or events and is asked to bust a few moves here and there, he delivers.
Kenyans are always tickled by his smooth dance moves. Surprisingly Ida can get down too!
READ ALSO: Ogande Girls: Where Sharon Otieno, Ida Odinga ate quarter loaves
A few months ago, blogger Robert Alai shared a video of the former prime minister's wife grooving to the enchanting rhythms of rhumba in the company of Gladys Wanga and Rosa Buyu in New York.
Ida is seen dancing to the evergreen 'Papa Lolo' song plucked from Mose Fanfan's 2005 album 'Bayekeleye.'
My political mother Mama Ida together with MPs Rosa Buyu and Gladys Wanga. Enjoying rhumba in USA. pic.twitter.com/wsBIgctzzj — Robert Alai (@RobertAlai) March 21, 2019