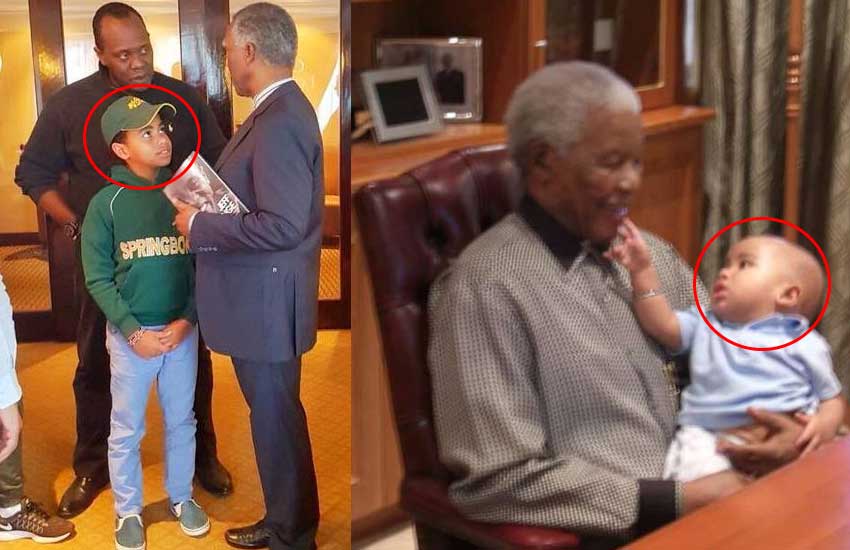 As the world celebrated the birthday of Africa's greatest icon Nelson Mandela on the 18th of July, 2018, Citizen Tv's Jeff Koinange took time to reminisce on his encounter with the anti-apartheid hero.
Through a series of photos, Koinange revealed that he introduced his son Mbiyu to Mandela during one of the many interviews he had with the country's first black president.
He wrote that his son, Mbiyu, seemed to have known that he was in the presence of greatness and relished the moment.
"Eleven Years ago when I first introduced my son, Mbiyu to Madiba, it's like he KNEW he was in the Presence of GREATNESS!! Viva Nelson Mandela, VIVA!! #HappyBirthdayMadiba #Madiba100 cc @richardbranson @NelsonMandela," posted Koinange.
The Jeff Koinange Live (JKL) host's relationships with South African liberation heroes is unparalleled. His son has not only met Mandela but former President Thabo Mbeki as well.
An alumni of Kingsborough Community College in Brooklyn and New York University, Koinange is married to Shaila Koinange.
He met her while auditioning to be flight attendants for Pan AM World Airways in 1986. He is one of the few Kenyan journalists who has broken the glass ceiling to the world stage.
His work at ABC, NBC, CNN and Reuters among others saw him brush shoulders with leaders across the world, including Mandela.
Here are some photos of his interviews with Mandela.