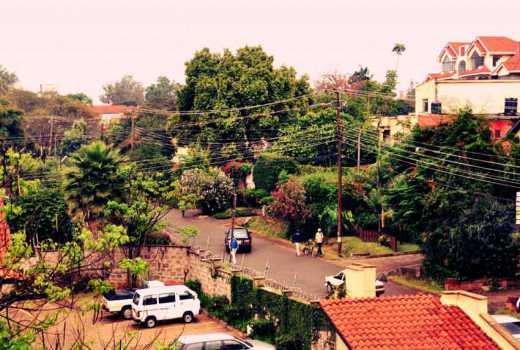 Kilimani is the noisiest of all moderately posh neighbourhoods in Nairobi. It's as if Kilimani residents can't tame the urge to announce to whoever cares to listen that they live in this address.
This 'burden' seems to be doubly taxing for women, so much so they even have two Facebook groups, exclusively dedicated to cater to their motherhood and consumerism.
The Facebook wall of Kilimani Mums Nairobi is a soap opera of sorts. In one 'episode' (sic) an enraged woman, tired of chasing after a debt owed by a friend who was apparently avoiding her calls like Ebola, decided to pay her a visit and drove to her home.

She got there, rung the bell, but no one responded, even though she could clearly tell the TV was on. Infuriated, she opted to use the backdoor. Surprise, Surprise!
She happened on the hubby of her debtor pal riding the house help like a stallion on steroids!
Our hero quickly recovered from the 'ambush,' composed himself and asked the flustered creditor what prompted her unannounced visit.
The philandering man was sweet and generous, and promptly cleared the pesky debt, with one rider (pun unintended), that whatever the lady saw didn't happen and that nothing was going to leave the walls of the confined space.
She took the money (who wouldn't?) and promised to be party to the conspiracy. She did, for a very short while, like all women are wont to. Poor guy, he should have known that his days of sneaking into forbidden territories were over.
With her debt fully settled, madam went to Facebook and posted a long narrative about the drama, claiming her conscience couldn't let her be and that the payment felt like a bribe. She was now seeking advice and guidance from the online community.
That post was later pulled down from the Kilimani Mums Nairobi page.
I have no doubt that when Kilimani women started the Facebook group to share notes on motherhood, they had the best of intentions. Here were mothers, housewives, corporate chieftains and maybe even God-fearing Christians who just wanted a forum to connect, network and share experiences and tips about all those things women hold so dear.
Initially, the page was full of advice and experiences that revolved around a common axis of challenges of motherhood and organising yard and car boot sales. Even expats in Kilimani jumped in. This was a woman's paradise!
The posts were sober and tasteful, delivered in well-constructed and flawless grammar. It was impeccable, professional even. That is until intruders from Githurai, Eastleigh and Kangemi joined in, muddying and muddling the waters in the process, as the number of fans ballooned to over 20,000! 'Ghetto' posts took over.
Nowadays, it is not uncommon to find a post from a woman in Kahawa Sukari seeking advice on how to deal with her child's diarrhoea. What I don't get is why a group of women will sit in front of computers and bang away in search of advice from strangers, while they can just go to the nearest hospital.
Kilimani has perhaps the highest concentration of reputable healthcare facilities and medical consultants; from Nairobi Women's Hospital, Nairobi Hospital, Aga Khan University Clinic and other numerous clinics and doctors' plazas. Surely these women can afford the services.
The expats seem to have fled the group. The sales days have dwindled and are fewer and far between.
While Kilimani ladies are generally sophisticated, exposed and well-educated, there is still a notable number of sore thumb inapposite women in their midst. The proverbial black sheep, so to speak.
But some are just intruders, or maybe they consider themselves the diaspora from Kilimani. This is why Kilimani Mums Nairobi has over 20,000 members, while Kilimani Mums Marketplace has more than 18,000 followers. That is more than the registered number of voters in some constituencies! Certainly, Kilimani's population is not that big, right? But there must be something unique about a neighbourhood to compel its residents to socialise and transact business through Facebook.
The posts on their Facebook walls are as telling as they are shocking. This one needs a biological miracle:
Maureen, Hi KMs, please tell me, is there a way monthly periods can be 'postponed'? Say you're traveling or going on holiday and don't need the hussle (sic) that comes with the red dot...Thanks in advance.
And did you know there is such a thing as UV-ray cleaning of mattresses? Foy K Kuria
The Kilimani Mums Market Place wall looks like an online hawking bazaar.
Every conceivable and inconceivable thing under and over the sun is on sale here. A peek on the page has the following things on sale: uncooked samosas, Micralite stroller/push chair (been in use for only six months), advertised hairstyle and herbal slimming tea.
There is more: sandalwood soap, sandalwood powder, raw Ghanaian black soap, Dudu osun black soap (all of which are billed to clear stubborn acne, dark spots, wrinkles, dry skin, stretch marks, eczema, oily faces with pimples and will give you the desirable smooth glowing face).
Given their eagerness to share what they have on Facebook, I can help but wonder if this is not but a serious case of the middle class' affliction to flaunt their materialism in desperate search for some form of validation.
They lead their lives publicly. It is obvious from the two Facebook pages. They have an inordinate hankering to be noticed, embraced and appreciated. And they do it the only way they know how – through untamed exhibitionism. May be that is how things happen in planet Venus.
A pedestrian assumption would be that they cannot sustain their lives in Kilimani, hence they keep on selling anything of value they can lay their hands on. They are the equivalent of those who sustain their lives through 'shylocking' electronics and kitchenware in less leafy hoods.
However, Ruth Akoth, a 29-year-old resident who works for a human rights NGO begs to differ:
"They are constantly buying or importing electronics, cutlery, handbags, clothes or toys for children, hence the slightly older ones are often sold or given to charities."
Kilimani women are also notorious for car boot sales - which is basically hawking goods off the trunk of their cars in residential areas, mostly fruits and clothes.
But how come it is only in Kilimani that we have this overly public sales of all manner of goods. It can't be that they are lacking in supermarkets!
"In other suburbs such as Lavington, and Karen, they often auction their stuff, especially when expatriates are leaving the country. Expatriates sometimes sell all their household items in these areas, but unlike Kilimani, it is never that public. But the practice is nonetheless common in other neighbourhoods," says Ruth in her defence of the women of Kilimani.