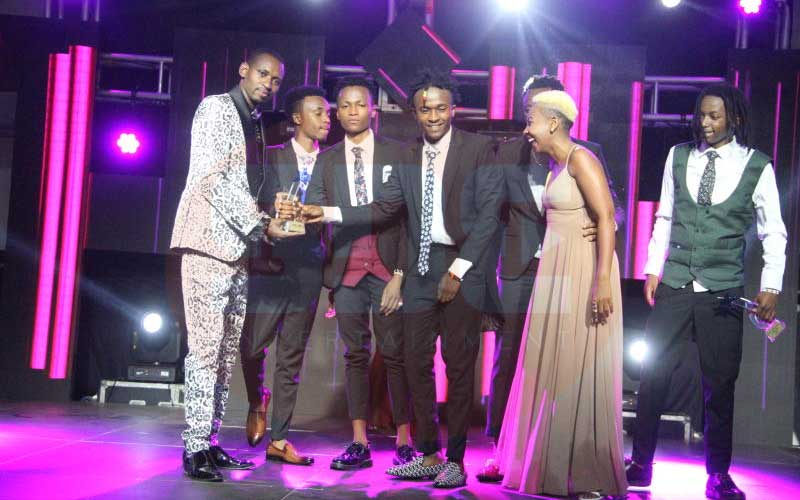 What is the future of Gengetone in the fast-growing Kenyan music Industry? One might wonder. This question has been a topic of discussion among Kenyans over time since the meteoric rise of the music genre early last year by a number of youth music groups among them Ethic, Ochunglo Family, Sailors and many others.
Borrowing from Genge, a genre popularized by music legends JuaCali and Nonini back in the days, Gengetone has been criticized by a section of netizens accusing the genre of promoting sex, drug abuse and rape.
Over weekend however, the debate hit its climax after Kenyans took to twitter to give their unfiltered thoughts on the music genre through the hashtag #Gengetone.
On the forefront was Sailors manager, Mwalimu Rachel who accused the government of letting the youths down by not adequately supporting their talent.
"I have said this before and will repeat...the youth are curving a way for themselves. Gava has let them down, there's almost no one guiding/mentoring them. #Gengetone is that avenue for them to speak out and earn some money. If judgment is all they get, they shall rebel," she wrote.
The Kenya Film Classification Board (KFCB) boss Dr. Ezekiel Mutua charged has on several occasions spoken out on music guidance, even clashing with musicians on the type of content they put out in their music.
Mutua has even banned songs like 'Wamlambez' by Ethic and 'Takataka' by Alvindo, saying they do not reflect the Kenyan moral values.
Peter Mutisya I've tried the #gengetone wave, and to be sincere, it's not about religion. It's about content. These artists are shallow, and their songs won't last. Glad they try to release one every week.
Mockingbird bird We can't listen to same topic daily after one week we will get bored. These music videos u can't even watch in public very disgusting it will drag our youth to mediocrity. Think of long term things that will be appreciated globally. There are many topics beside sex, drugs.
Cedrick Wandera Let trash be called trash! All #gengetone talks about is shada and sex nothing more. I can't deny the fact that the beats are a combination of the tradition Kenyan beat and a kinda spiced up good vibe, but if only there could be sense in the message, #Gengetone would stay
Mwalimu Rachel responded by saying, "I wish all these people calling out #Gengetone ACTUALLY did something to "better the situation" and not just tweeting here. LOL. I won't argue with people who haven't gone to their pockets or spent time to speak to their guys kwa mtaa who are doing Gengetone. I'm playing my part. Wewe je? I will support and GUIDE my son if he decides to do #Gengetone. He's lucky. I understand the industry. And we will make lots of money."
In support of Gengetone
A section of netizens came out guns blazing ready to stand with Gengetone. In their argument, the genre is purely entertainment and its contents should not be blown out of proportion.
RasWeekly News Kenyans have been listening to nasty shit from Jamaicans for like a decade but now want to play holier than thou when their fellow Kenyans produce similar content? Pretense. #Gengetone
Aldrin_Ouma I highly support #Gengetone but their songs are too predictable...they're likely to sing about sex or drugs alone. No song encourages youth to live a drug-free life or how to get a job.
Oneil Khamala #Gengetone If you want content read the Bible. Music is for entertainment
JOIN THE CONVERSATION
next