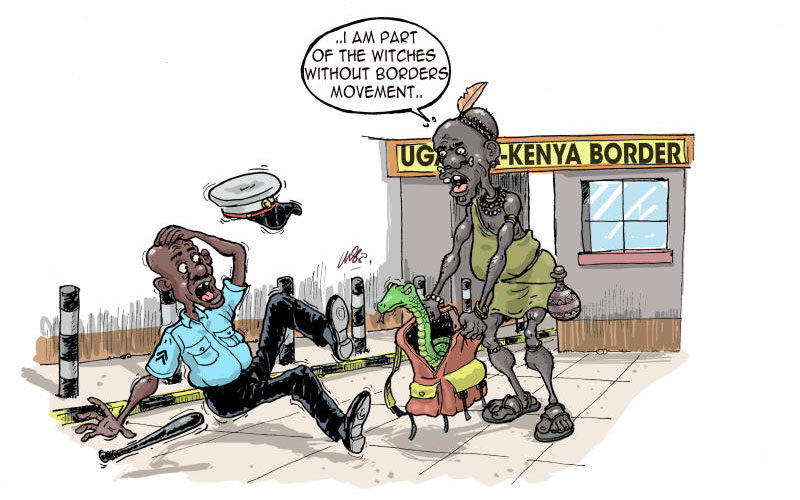 Drama played out at the Malaba border customs office where a witchdoctor on transit was denied entry into the country.
Apparently, customs staff on the Kenyan side found the man in his late 30s in possession of a 5.5-foot snake whose origin remains a subject of debate.
"When prodded on what a gentle-looking soul like him was doing with a snake he told the customs duty fellows that he was a witch doctor from Uganda who was crossing the border to sort Kenyan issues," said a cleaner at the customs premises.
"He looked unapologetic and warned the Kenyan officers who kept him detained at the point of consequences if he is not let in the country to carry on with his duties like a 'mganga bila mipaka' that he was."
The witch-without-borders wondered why he was stopped. He said Kenya needed him more than the other way around.
"It is the first time you people are stopping me yet I have been passing here with the snake without a hitch. I am not going to kill a person, I am going to heal," he was quoted as saying.
Busia County Police Commander John Nyoike, told the Crazy Monday that the suspect, Joshua Bumba was arrested with the snake last week.
Nyoike said that on interrogation, Bumba insisted he was "a witchdoctor headed to Bungoma to treat a mentally ill person who Kenya could not treat."
It is alleged the man, who acted possessed, mumbled to himself as he waited in an isolated room as the Kenya Wildlife Service was contacted.
"The KWS officers advised that the suspect and his serpent be repatriated to Uganda arguing that the animal was likely from Uganda and might not survive on Kenyan soil," said yet another police officer.
The witch was eventually handed over to the Ugandan authorities but those who know him believe he sneaked back across the border.
"The restrictions at the border are not iron-clad, he could even tip Sh100 to a porter to smuggle the snake, which we hear was packed in a sports bag through the border," said Derick Odeke, a tailor at the border point.
Some wrongly believe the witch, a common figure at the border, has mystical powers: "Bumba is a super natural man, he can even fly across the border."
JOIN THE CONVERSATION
next