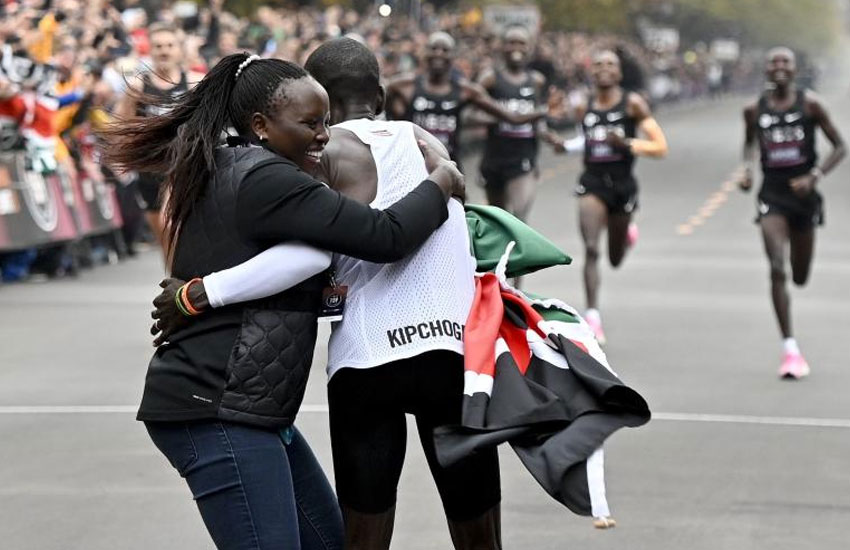 Social media was abuzz after Olympic champion Eliud Kipchoge broke the INEOS 1:59 Challenge record in Vienna, Austria.
Using the hashtags #Eliud159, #INEOS159 and #NoHumanIsLimited, Kenyans On Twitter (KOT) and other social media platforms joined the celebration and congratulation frenzy.
The creative and humourous side of Kenyans could not be hidden when they took INEOS challenge to another humorous level.
A parody Twitter account of businessman and philanthropist Jimi Wanjigi(@jimiwanjigi) had a field day carrying on its deceiving streak since Friday when it promised a jet to the athlete:
"Congratulations!! You have done us proud. Plans are underway with @GulfstreamAero, the jet will be delivered to #eliudkipchoge before November 29 2019," tweeted the fake account.
Others listed a fantasy list of monetary rewards waiting on Kipchoge when he lands back, including Wanjigi's mythical jet and millions of shillings in cash.
Public holiday?
Another creative mind designed a fake "special" gazette notice designating tomorrow a public holiday.
Can someone please tell me this is true ????????????I already have a challenge to do on Monday#nohumanslimited#159Challenge#INEOS159 pic.twitter.com/WiOIztNITU

— @di_kaparo (@di_kaparo) October 13, 2019
For those given unto sensual pleasures, the INEOS 1:59 challenge was dream come true.
Where is this guy who gave us this BS #nohumanslimited #eluid159 pic.twitter.com/nCjEoKTGQ2

— patrick mwangi (@Its_Mwangi) October 12, 2019
Some select bars and liquor brands played on the figure 159 to sell their brands.
Others cryptically dared each other to all manner of INEOS 1:59 challenge, like staggering home at 1:59 am "because no human is limited."
Eldoret plans and celebrations are underway????????????.#nohumanslimited#eliudkipchoge#IneosChallenge#INEOS159#Eliud159 pic.twitter.com/lhB92GkFAa

— Kulture (@mauya_jon) October 12, 2019
In Nairobi's entrepreneurial zone, River Road, audiovisual compact disks of the race did brisk business as soon as the race was done.
JOIN THE CONVERSATION
next