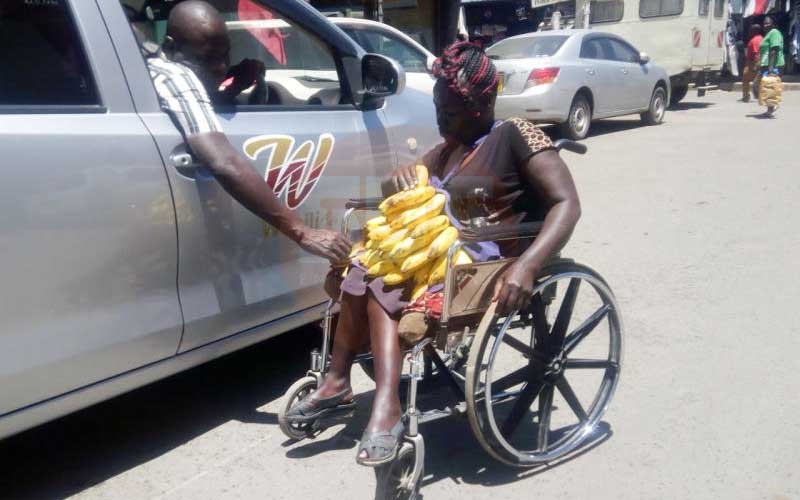 Pushing herself on a wheelchair down Kenyatta Avenue, a bunch of bananas on her lap, Eunice Atieno, 38, is an inspiration for many, who know her story, on the streets of Nakuru town.
Paralysed by polio at three, Atieno's life has been anything but rosy. Born in Nyakach, Kisumu, Atieno was a normal child bubbling with life. Then polio struck, and everything started going south, and fast.
To date, Atieno is not sure whether to blame polio or poverty for her troubled childhood.
"I was on crutches for more than 25 years because my parents could not afford a wheelchair," she says.
By the time she was 15, she had lost her two parents. She dropped out of school in Class Eight. Atieno says she felt alone in the world. At 21, she made her first major decision; to get out of Kisumu.
She ended up in Nakuru, where she traced an old-time friend. Here she thought she had finally found something that everyone longs for; love.
Looking up
Things were looking up and the two settled in as man and wife. But the bliss did not last. Three-children later, her husband walked out. To date, Atieno does not know why he left.
She, however, knew that with three mouths to feed, rent to pay and still being stuck on a wheelchair, she had to make a painful decision. She says that was the lowest moment of her life.
"I became a beggar, something I had never dreamed of before. I had only two options; beg or starve to death, me and my children," she says.
Her journey in the streets began in 2009. By then, some well-wishers had donated a wheelchair. All along she kept hoping that it would only be for some time and that she would soon get out. But by 2017, eight years later, she was still on the streets with her begging bowl.
Then one morning, Atieno decided she had had enough.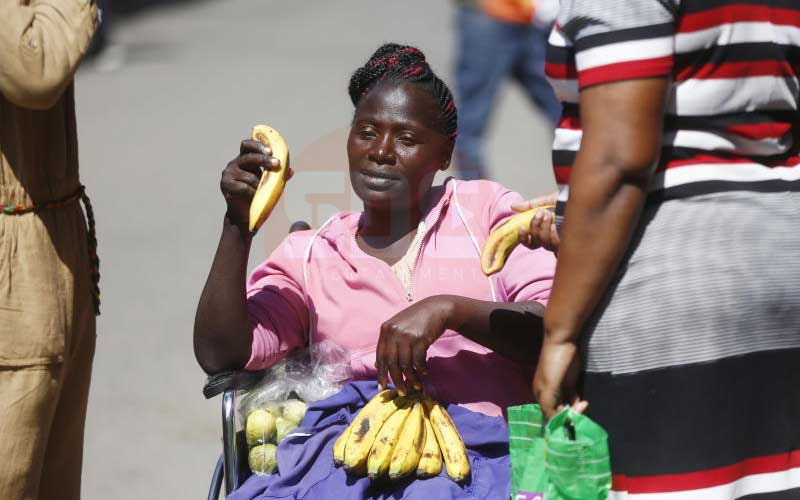 "Begging on the streets was choking me. Deep down my heart, I hated it. I hated the plate I had to carry around. I hated the sound of the coin dropping in the plate," she says.
She still recounts that light-bulb moment.
"I woke up, threw the plate away, took the last Sh50 I had and asked somebody to help me into a matatu to the market," she recounts.
At the market, Atieno used the Sh50 she had collected on her beggar's bowl the previous day to buy a bunch of bananas. She then headed back to Nakuru's CBD and back on her wheelchair, this time not as a beggar but a trader.
She was a strange sight on the streets dominated by young, energetic hawkers and street vendors, but she kept on.
To her surprise, she sold the entire bunch of bananas and went back to the market for more. On her first day in business, she made a profit of Sh150.
Her mind was then made up: She was not going back to her beggar's bowl again.
Two years' later, Atieno is making a living by selling not just bananas, but mangoes, guavas, oranges and other fruits. She owns a bustling fruit stall on one end of the busy Kenyatta Avenue in Nakuru town.
On a good day, she makes up to Sh700.
She calls on other persons living with disability to resist the temptation to beg on the streets, or if they are already begging, to make a decision to get out of what she describes as an addictive habit.
"Begging is not the solution, get something to do," she says.
JOIN THE CONVERSATION
next