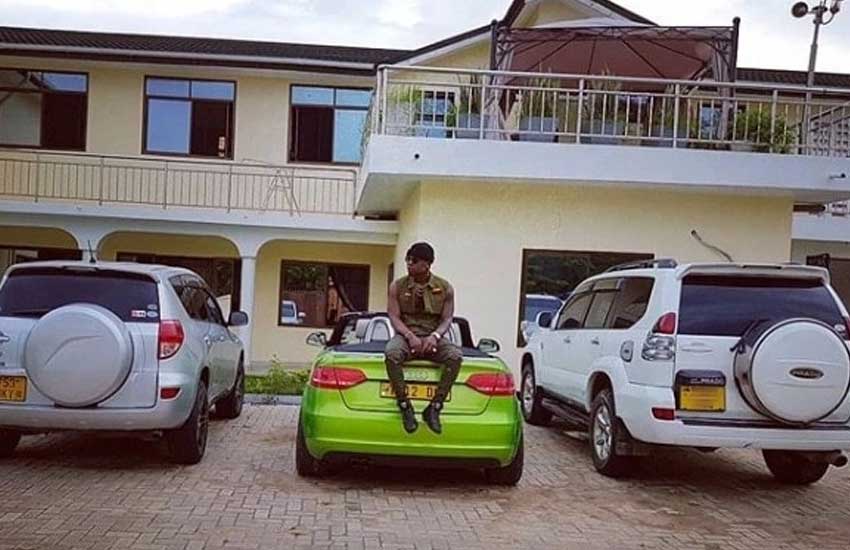 The rate at which Wasafi Classic Baby (WCB) label mates are dishing out sleek cars is on an all-time high.
A week after singer Raymond Shaban Mwakyusa alias Rayvanny gifted Tetema producer S2kizzy with a sleek Mark X, Harmonize has jumped in the bandwagon.
Born Rajab Abdul Kahali, Harmonize was on a philanthropic mood on his return from Nigeria after he surprised his friend Jose Wamipango with a brand new Suzuki Swift.
According to Harmonize, the belated gesture to celebrate Wamipango's birthday was a thank you for his friendship in the ghetto during his younger years when he strived to hit the music jackpot.
"Hata kuiandika niliandika nikiwa katika mazingira ngumu sana nikiwa Ghetto. Nilikuwa naishi kwa mwanangu anaitwa Jose Wamipango. Nilikuwa naishi ABC lakini mwanagu anaitwa Jose alikuwa anaishi maeneo ya Ilala familia yao kidogo ilikuwa iko freshi.
"So nilikuwa natoka zangu kuangalia studio tofauti tofauti nikiwa late naenda pale kwa mwangu Jose. Birthday yake ilikuwa juzi nilikuwa niko Nigeria nimerudi jana, leo nimemnunulia gari nimetoka kumkabidhi," wrote Harmonize.
S2kizzy's Mark X was unveiled on his birthday at an impromptu event aired live on Wasafi TV courtesy of a set on Wasafi FM's Block 89 show.
"Wajua nikifanya kazi na S2kizzy alikua na gari lake na alikua akiniambia gari langu bwana kuna jamaa kazingua. Amechanganya mafuta na maji. Sometimes namwambia njoo studio anachukua bajaji, nikaona inatake time so nikwawaza ni kitu gani ambacho ninaweza nikampa... Nimeamua nikachukue gari," said Rayvanny.
The kind gesture by both Harmonize and Rayvanny follows a similar drive by WCB CEO Diamond Platnumz who in August 2018 gifted Mbosso and Lava Lava brand new Toyota Harriers.
According to Platnumz, the two deserved the cars for their hard work and determination since joining his WCB label.
"Mbosso, trust me, you deserve that Khan. Asie fanya kazi na asile. Trust me they deserve that Mbosso and Lava Lava," he posted.
JOIN THE CONVERSATION
next