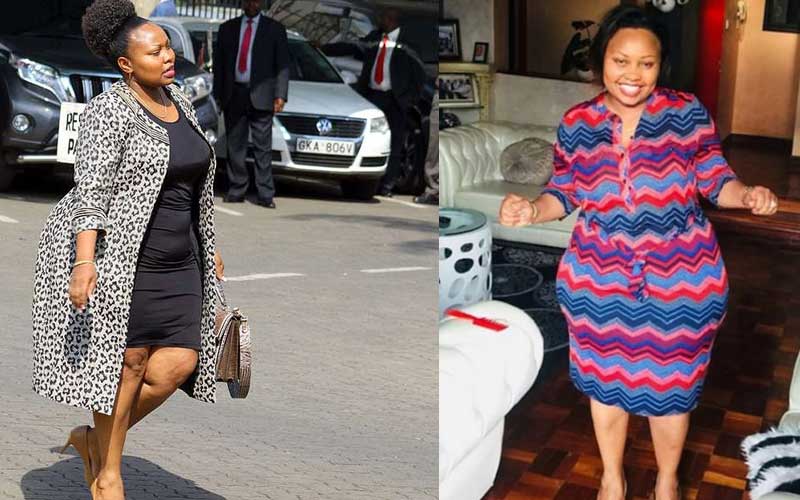 It's never a dull day for Nominated Senator Millicent Omanga who has demonstrated that indeed work without play makes Jack a dull boy.
The curvaceous senator posted a video on her Instagram page, that she has since deleted, shaking her derriere to Radio Love song by Nadia featuring Arrow boy alongside media personality, Betty Kyallo.
When Omanga was asked by Kyallo if she normally dances, her response was "Eii I love dancing."
The senator is not shy to show off her passion for dancing. A few months ago she was got down to Jaguar's Kigeugeu song after an interview on Radio Jambo and she did not dissapoint.
READ ALSO: Reactions to video of senator Millicent Omanga shaking her behind
Shook fans left several comments under the video some urging Kyallo to pick the Senator's dance pace and move her waist.
Faithkithumbu I loooooove your dress
Floraakelo Betty yawa tingisha kiuno
Juliusmarua Waaaoh nyce one you are beautiful
Hon.sheila_karembo Mhesh
Missnjagek Top!
_kjkj Na si Omanga unapenda ku dance
Kinggeorgegustavo Twende kazi... Amaaaazing skills.
Djemba_nyakwar_nyaboro Atareee fireee
Tabby9601 Senator you can dance honey, you are beautiful dear
Vincentgithaiga Back office
Mailu_soo Mhesh hio challenge iko chonjo
Wyclefbwaaza looking lovely
K_ngari_254 Wah sawa
Davidluwalikinda Amazing
Simonmungainjoroge Nice dance moves
Awi_baby Go mama... No wonder [email protected]_omanga
JOIN THE CONVERSATION
next